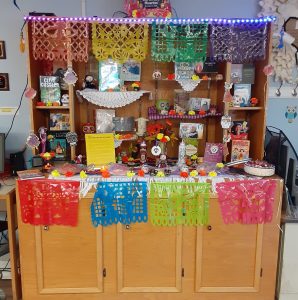 Our Positive Youth Development Educators had SO much fun learning while doing around Rock County throughout Hispanic Heritage Month and ending with Day of the Dead. 4-H happens inside our community clubs AND out in the community.  Thank you to Hedberg Public Library, Clinton Community Library, Beloit Public Library, YWCA Rock County for a great partnership.  We also appreciate the Spanish language media on Facebook: La Voz de Beloit and Wisconsin Contigo for sharing the experiences!
You can still learn by doing on the organizations' Facebook pages.  Or, check out our developing Google site full of resources! https://sites.google.com/wisc.edu/notinvisibleink-credible/home
Nuestras Educadoras del Desarrollo Positivo Juvenil tuvieron se divirtieron TANTO aprendiendo mientras hacer alrededor del Condado de Rock durante el mes de la Herencia Hispana y culminando con Día de los Muertos.  4-H ocurre dentro de nuestros clubes comunitarios Y fuera por toda la comunidad.  Muchas gracias a la Biblioteca Pública Hedberg, la Biblioteca Comunitaria de Clinton, la Biblioteca Pública de Beloit, YWCA Rock County por su colaboración  ¡También apreciamos nuestra media del idioma español en Facebook: La Voz de Beloit y Wisconsin Contigo, por compartir las experiencias!
Todavía se puede aprender mientras hacer en las páginas de Facebook de estas organizaciones.  O, se puede explorar nuestro sitio de Google en desarrollo ¡que tiene muchos recursos!