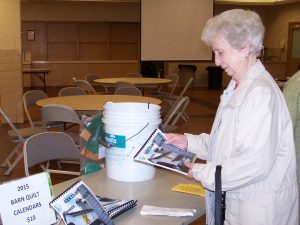 Helen Conway is looking at a copy of  the 2015 HCE Barn Quilt Calendar available for sale at the UW Extension office.
Rock County Association for Home and Community Education (Rock County HCE) is a unique educational, charitable, nonprofit organization. During our 70 years in existence, we have used different names – Home Demonstration, Extension Homemakers, Association for Family and Community Education (FCE), and Association for Family and Community Education (HCE) – but our mission remains the same: To provide educational opportunities for our members; and to offer service to the communities in which we live.
Some of the educational programs which were presented in the early years of our organization include:
meat cutting
safe dry cleaning
planning a garden
making soap
sugar rationing
canning food
care and cleaning of your sewing machine
making your own dress forms
washing and ironing made easier
spending food dollars
textile printing.
Educational programs in recent years include:
plants and gardening
vinegars and marinades
casseroles
stir fry
low fat meals
Rock County Community Baby Shower
Generations Need Each Other
downsizing life's possessions
scam artists and telemarketing
stress and stress reduction
ribbon embroidery
better photographs
studies of Washington and Oregon, Austria, Arizona and New Mexico, and Finland.
Our members improve their leadership skills by becoming project leaders and officers in their clubs and by becoming officers and educational program chairmen in their county, district and state organizations. All members have the opportunity to get to know their fellow members in the club, county, district, and state; to form friendships; and to enjoy the social aspects of getting together to learn from each other.  One way our organization supports the families in Rock County by providing money for college scholarships. Look for the scholarship information in December with applications due April 1st.  Rock County HCE has provided much for its members and the community during its 70 years as an organization and hopes it may continue to fulfill its mission in the future as we work to meet the needs of our members in an ever-changing society.
HCE Related News:
No items to display at this time.