Teen Cuisine Coders
Did you receive a food gift card? Did you give a grocery gift card? Do you want to set healthy goals for you or someone you care about? Explore youth created resources by the Teen Cuisine Coders of Beloit Learning Academy! If you use their suggestions, you will have the flexibility to change ingredient selections, use leftover ingredients and save great meals to eat later. 
Too hungry to be creative? Need a solution made easy? Get motivated with this short video!
Now try. . .
Recommended recipes-These recipes are chosen by youth.
Sample shopping lists-These lists are based on the most common grocery gift card amount donated ($20). By using the list provided, you will be able to make all the recipes shown on the grocery list. (*Prices may vary from the time these lists were created).
Tips from youth-These recommendations help choose ingredients you like best and stay within the $20 budget.
Share this resource with someone else! Download our PDF flyer.
More Resources Coming Soon! Keep checking back in November and December! We hope our experiences and questions provide useful answers for YOU(th)!
The Beloit School District promotes a gift card drive to support youth experiencing homelessness. Youth dedicated their time to soliciting gifts card donations during the month of November and attaching the QR code sticker that led you (our reader) here! When this project started, the partner organizations had one question. How can we support youth to choose healthy when receiving community support (i.e. gift cards)? In our Teen Cuisine Coders program, youth participants and youth participant leaders in our program developed the resources below to share their learning in words and images that speak directly to their classmates.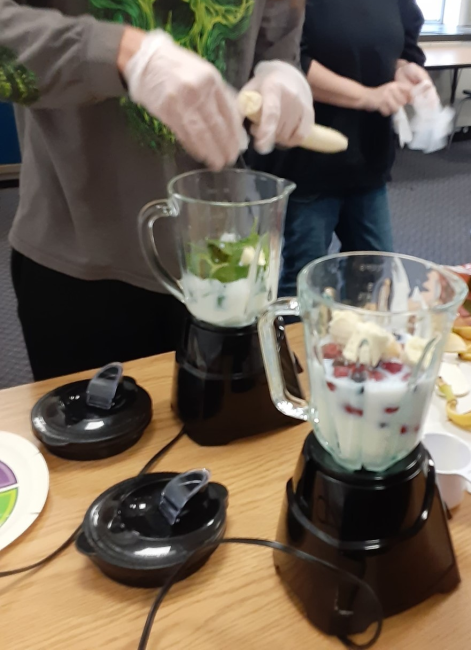 Our Teen Cuisine Coder project is in partnership with the Beloit Learning Academy students within the School District of Beloit. This project is a recipient of the SSM Mini Grant 2022. As recipients of an SSM Health mini grant in 2022, youth
Participated in the six-week Teen Cuisine series. Teen Cuisine is designed to teach youth in grades 6-12 important life skills to promote optimal health. The curriculum addresses key concepts about nutrition, food preparation and cooking, food safety, and physical activity using approaches and strategies that enhance learning and behavior change among teens.
Utilized the nutrition content and cooking skills acquired to create a nutrition resource to increase understanding and accessibility to the information for other youth.
Youth shared the following questions.
"What are other ways to cook veggies?"
"How can you cook food that isn't stingy on the ingredients?"
"How can you cook food and not have it cost too much?"
After preparing these recipes, youth said, "I feel like I could work at a 5 star restaurant." Not bad.